SERVICES
Our services span the product development life cycle from ideation through post-deployment support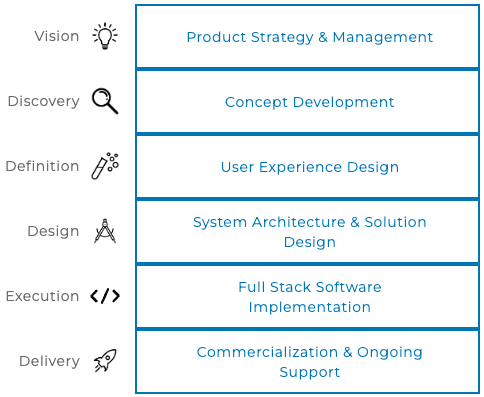 We recognize that your business and digital objectives are unique.
We'll work with you to craft a program and tailor a project team that meets your needs.
APPROACH
We approach projects with the goal of uncovering actionable insights quickly and accelerating value delivery within your organization.
GATHER CONTEXT
First, we immerse ourselves in your domain space to deeply understand the user, the context of use, and the broader strategic drivers behind your project.
Activities:
Requirements Gathering
Collaborative Workshops
Stakeholder Interviews
User Research
CREATE FOCUS
Next, we work with you to translate the insights gained during the discovery phase into clear requirements and design a solution that is grounded in technical feasibility.
Activities:
Requirements Definition
Product & Experience Design
Solution Architecture
Priority, Estimation & Planning
DRIVE EXECUTION
We then provide proven, dedicated project teams to work through your backlog, developing and deploying your product using an adapted agile methodology and a series of implementation sprints.
Activities:
Rapid Prototyping
Full Stack Software Development
Product Launch & Commercialization
Ongoing Support & Maintenance
WHAT SETS US APART
Our methods, practices, and philosophy focus on doing the
right thing, right.
This involves knowing what problem to solve, knowing how to solve it, and executing on the right solution.
THE RIGHT THING, DONE RIGHT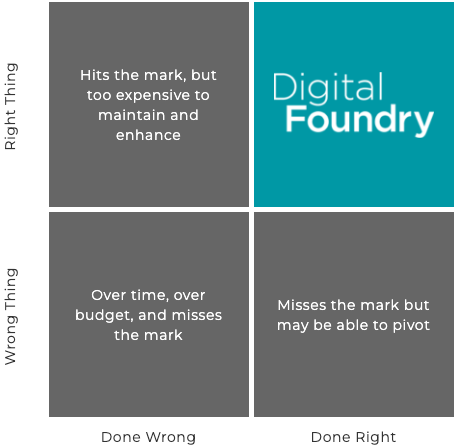 Our work results are superior because of the methodology we've honed over 20+ years of learning. These lessons have revealed what's really important when bringing innovative products and services to market, quickly, within large organizations.
Doing the right thing requires:
Context - a deep understanding of the problem space
Empathy - an intimate knowledge of the user and user's need
Strategy - a keen sense for what's really important, in both the short and long term
Doing it right requires:
Thoughtfulness - action informed by your business and technology realities
Focus - the ability to remove distractions and do work
Iteration - the flexibility to iterate until "Right" approaches "Perfect"
SAN FRANCISCO-BASED SOFTWARE DESIGN & DEVELOPMENT
WORKING GLOBALLY SINCE 1992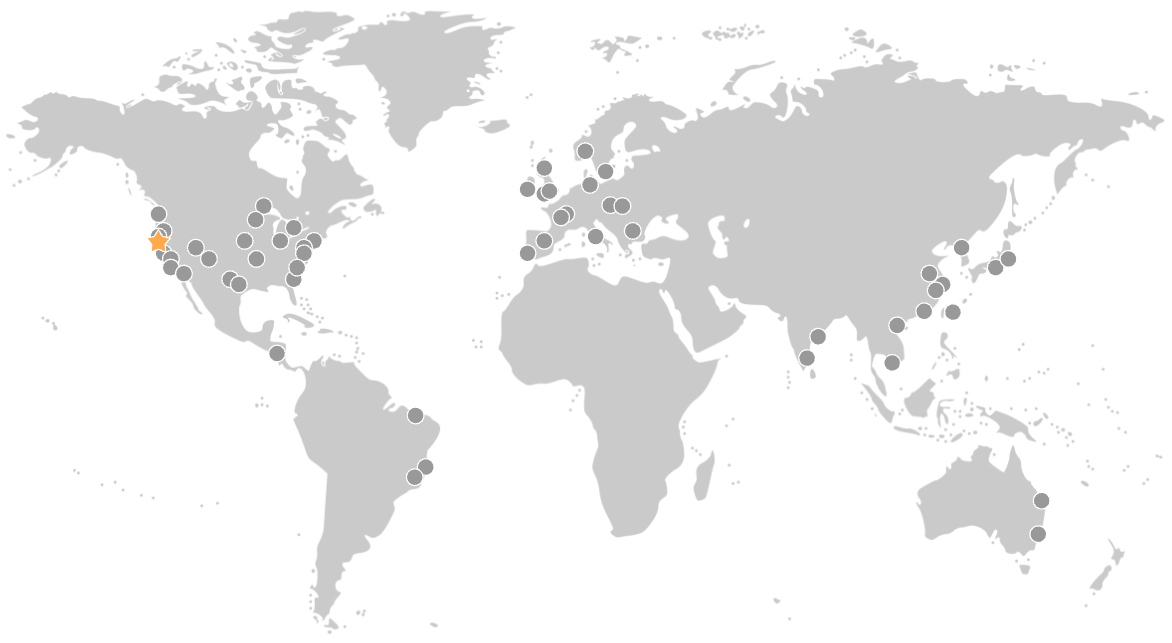 BY WATER
A 20-minute ferry ride from San Francisco is the fastest way to Digital Foundry. Grab a drink and enjoy the views of San Francisco, Alcatraz, Angel Island and the Golden Gate Bridge. Digital Foundry is just across the street from the ferry dock in Tiburon. Not a bad way to commute!
BY LAND
Bike or drive to Digital Foundry from San Francisco, and take in the stunning sites around the Bay – the Golden Gate Bridge, Sausalito, and the water-front running paths in Tiburon. To find our parking lot, continue past Main Street to the traffic circle and take the last turn on the right. Then walk past the booth and across the footbridge to our office.