Work
We work hard
We're a team of go-getters who take pride in delivering top-notch results. We work hard and bring our A-game to every project. We're committed to producing high-quality work and exceeding client expectations. Collaboration, accountability, and a strong work ethic are at the core of what we do.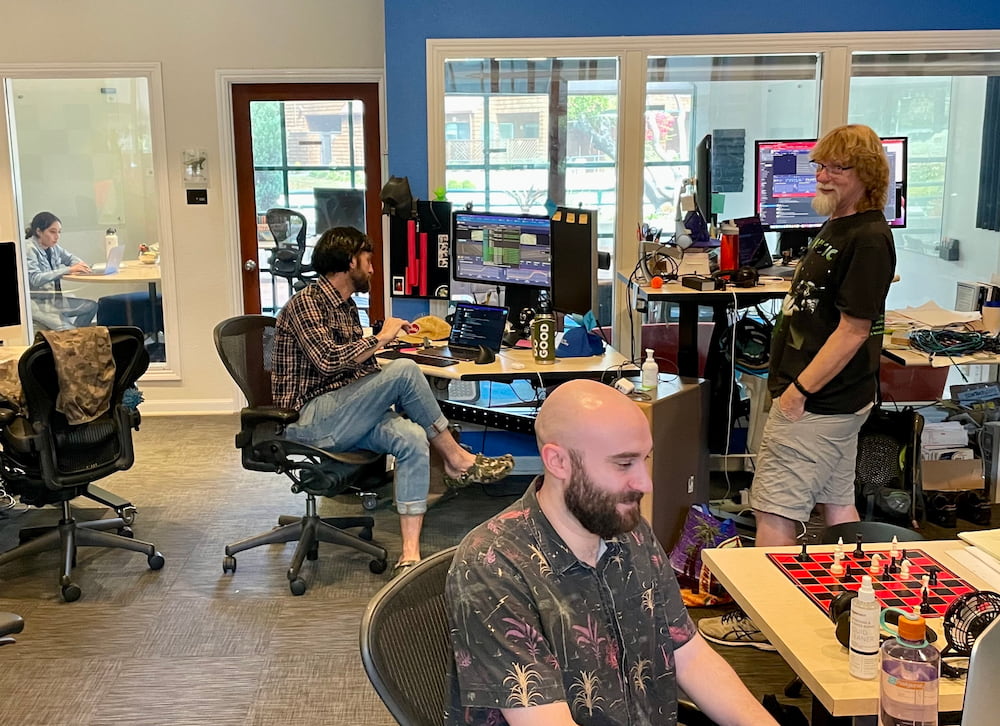 PLay
We have fun
We believe that having fun and enjoying our work is essential. We foster a supportive and lively environment where we appreciate the value of occasional distractions. Whether it's team activities, friendly competitions, or just sharing a good laugh, we know how to make work enjoyable.
Evolve
We're always improving
We're all about growth and staying ahead of the curve. We love learning and adapting to new technologies, tools, and trends. We encourage innovative thinking and embrace change. We believe in continuously improving ourselves, our skills, and the solutions we deliver.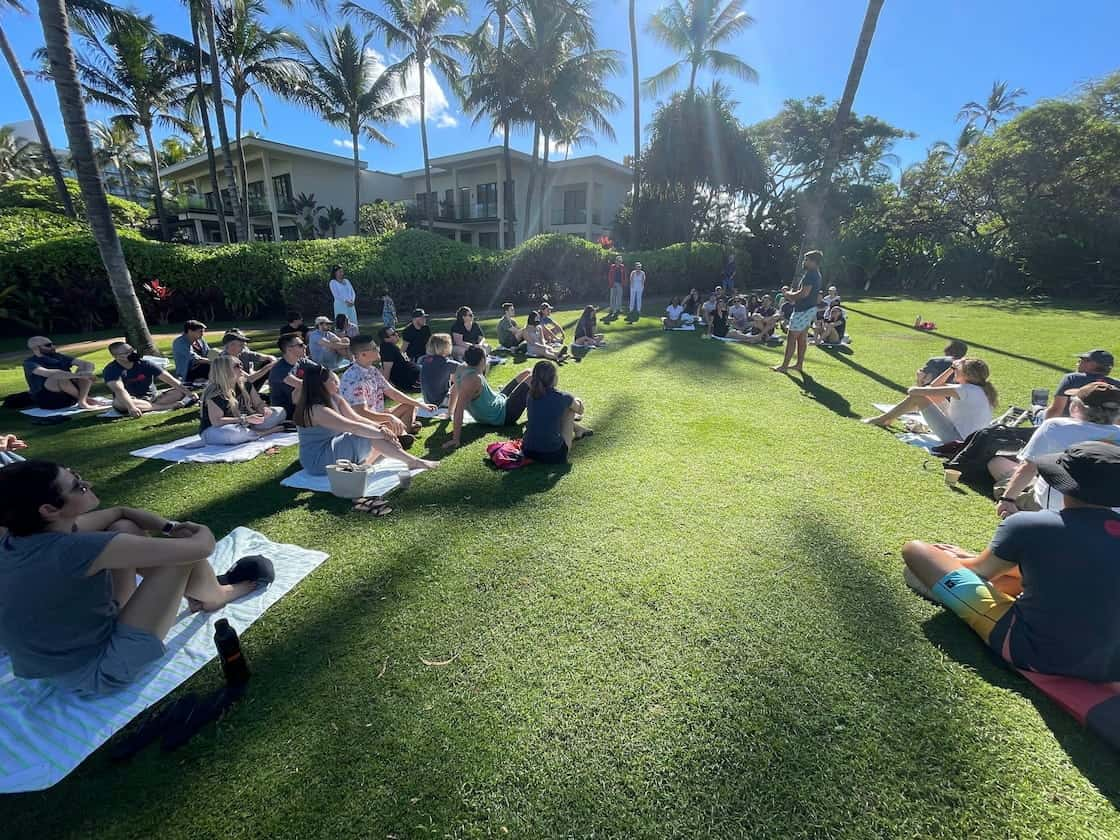 Join the team
At Digital Foundry we empower our employees to make a meaningful difference in the world through technology. We strive to create an environment that fosters innovation, collaboration, and personal growth, where our talented teams can work together to deliver exceptional solutions that positively impact the lives of our clients, their customers, and the communities we serve.
We are committed to attracting, developing, and retaining top talent, offering a supportive and inclusive workplace that values diversity, cultivates creativity, and encourages continuous learning. Join us in shaping the future through cutting-edge technology, collaborative teamwork, and a shared passion for making a difference.
If you're ready to work with a team that works hard, plays hard, and embraces growth, Digital Foundry could be your perfect fit.
Frequently Asked Questions
What is the DF Office like?

Our DF office is nestled in the beautiful town of Tiburon, California, just steps away from the water in Marin County and conveniently located across the Golden Gate Bridge from San Francisco.

By Water: The fastest way to reach Digital Foundry is by taking a delightful 20-minute ferry ride from San Francisco. During the ride, you can relax and enjoy breathtaking views of San Francisco, Alcatraz, Angel Island, and the iconic Golden Gate Bridge. Once you arrive in Tiburon, our office is just across the street from the ferry dock. It's a picturesque and enjoyable commute!

By Land: For those who prefer to bike or drive, you can take in the stunning sights around the Bay Area, including the magnificent Golden Gate Bridge, charming Sausalito, and the scenic waterfront running paths in Tiburon. To find our parking lot, simply continue past Main Street to the traffic circle and take the last turn on the right. From there, walk past the booth and across the footbridge to our office.

Once you step inside our office, you'll find an open-plan layout with rolling desks situated in dedicated project bays, offering a collaborative and dynamic workspace. Floor-to-ceiling windows provide ample natural light, creating a vibrant and energizing environment. Each project team has its own bay, complete with large sliding glass doors to facilitate meetings and foster collaboration. The walls are adorned with whiteboards covered in post-its, architecture diagrams, and user journeys, reflecting our passion for building and problem-solving.

We are builders at heart, and our office reflects that spirit. We have a vegetable garden out back, 3D printers to fill our desks with various objects that inspire us, and a spacious breakroom that overlooks a tranquil lagoon. On Fridays, you might catch us BBQing and enjoying the outdoors. We provide plenty of hoteling setups for remote workers and visiting clients, ensuring a comfortable and productive environment for all. Our office has four conference rooms for meetings and discussions, as well as a dedicated product workshop complete with a conference table that converts into a pool table after the workday.

To keep us fueled throughout the day, we have a great coffee machine, morning snacks, and all the tools needed to build and deliver exceptional software.

At Digital Foundry, we believe in creating a workspace that fosters creativity, collaboration, and enjoyment. Our office combines the beauty of the surrounding area with a dynamic and inclusive environment, making it an ideal place to work and grow your career.
What is DF's policy on remote work?

DF's policy on remote work embraces a flexible and hybrid work environment. We understand the importance of offering flexibility to our team members, allowing them to work remotely when needed. However, we strongly encourage employees to come into the office to foster collaboration, work together on projects, and engage with clients during crucial stages.

Our office serves as a hub for collaboration, knowledge sharing, and social events. We believe that being physically present enables effective teamwork, idea exchange, and relationship building. Regular social gatherings, BBQs, and parties are organized to create a vibrant and inclusive community where our employees can connect and build strong relationships.

Furthermore, our office space is thoughtfully designed to facilitate collaboration and productivity, aligning with our ethos of delivering great results. We have dedicated areas for knowledge sharing, training sessions, and team activities, providing opportunities for personal and professional growth.

While we do offer flexibility in remote work arrangements, we value the benefits of in-person collaboration and the advantages it brings to our projects and team dynamics. Therefore, we prefer local candidates who can fully participate in our office culture and leverage the collaborative environment to deliver exceptional work.

At Digital Foundry, we believe in striking a balance between flexibility and the benefits of in-person collaboration. Our hybrid work policy allows our team members to enjoy the best of both worlds, fostering a productive and collaborative work environment while also accommodating individual needs and preferences.
What benefits does DF offer?

At DF, we prioritize the well-being and satisfaction of our employees. Here are some of the benefits we offer:

Comprehensive Healthcare: We provide medical, dental, and vision insurance plans to our employees and their eligible dependents. You'll have access to quality healthcare coverage that supports your well-being.

Time Off: We understand the importance of work-life balance, which is why we offer generous time off benefits. You'll have three weeks of paid vacation per year, starting from your hire date. In addition to vacation, you'll also enjoy company-recognized holidays and a personal day allowance.

Retirement Savings: We offer a 401(k) plan with a matching contribution to help you plan for your future. You can save for retirement with the confidence that DF will match a portion of your contributions.

Profit Sharing: As part of our commitment to recognizing your contributions, we have a profit-sharing program in place. When DF performs well, you'll have the opportunity to share in the success through profit-sharing distributions.

Parental Leave: We understand the importance of family and provide parental leave to support new parents. Whether it's welcoming a new child through birth or adoption, you'll have the opportunity to take time off and bond with your family.

Career Development: We believe in fostering growth and learning. We provide opportunities for professional development, training programs, and knowledge-sharing sessions to help you advance your skills and career.

Work-Life Balance: We value work-life balance and understand that personal commitments and obligations are essential. We strive to create a flexible work environment that allows you to manage your professional and personal responsibilities effectively.

These are just some of the benefits we offer at DF. We believe in supporting your overall well-being, providing opportunities for growth, and ensuring you have a fulfilling and rewarding career with us.
What's with all the Hawaii pictures?!

The pictures you see are from our annual company offsite in Hawaii. Every year, we bring our entire team together to celebrate our accomplishments, strengthen relationships, and have a great time. It's a tradition that has been going on for 15 years, and it's something we all look forward to.

During our Hawaii offsite, we engage in various team-building activities and exciting adventures. From snorkeling in crystal-clear waters to participating in outrigger races and waterfall hikes, there's no shortage of fun-filled experiences. We also have employee-run meetings and workshops where we come together to learn, share knowledge, and grow both personally and professionally.

This special event allows us to connect on a deeper level, fostering a strong sense of camaraderie and collaboration. It's a time for us to reflect on our achievements, set goals for the future, and enjoy the beautiful surroundings of Hawaii. It's a true testament to our company culture, emphasizing the importance of work-life balance, team spirit, and continuous growth.

The Hawaii offsite is just one of the many ways we create a positive and inclusive environment at DF, where we value not only the exceptional work we do but also the connections we build with one another.
SOFTWARE DEVELOPMENT
Software Engineer, Associate
Software Engineer, Full Stack
Sr. Software Engineer, Full Stack
Software Architect
Quality Assurance Engineer
SALES AND OPERATIONS
Business Development Associate
Business Development Lead
Sr. Business Development Lead
Sr. Business Development Manager
Marketing Associate
Marketing Lead
Marketing Manager
Office Experience Associate
STRATEGY CONSULTING
Digital Project Manager
Sr. Digital Project Manager
Digital Product Designer
Digital Strategy Consultant, Associate
Digital Strategy Consultant
Sr. Digital Strategy Consultant