In today's rapidly evolving business landscape, large-scale mining companies need to stay ahead of the curve by embracing digital transformation and adopting cutting-edge technologies to improve productivity, safety, and sustainability.

While off-the-shelf solutions, internal teams, and big name vendors can effectively manage a considerable portion of their digital portfolio, there are instances where specialized, custom development is necessary to address unique requirements or take advantage of new opportunities. Internal teams may face challenges such as limited bandwidth, lack of expertise in new technologies, or inflexible processes, and larger vendors may not provide the personalized attention, agility, or commitment to innovation required for critical projects.

These factors, combined with the limitations of off-the-shelf products, leave critical gaps in the digital capabilities of large mining companies, which can hinder growth and innovation. Failing to address these gaps can lead to stagnation, missed opportunities, and an inability to stay competitive in the industry.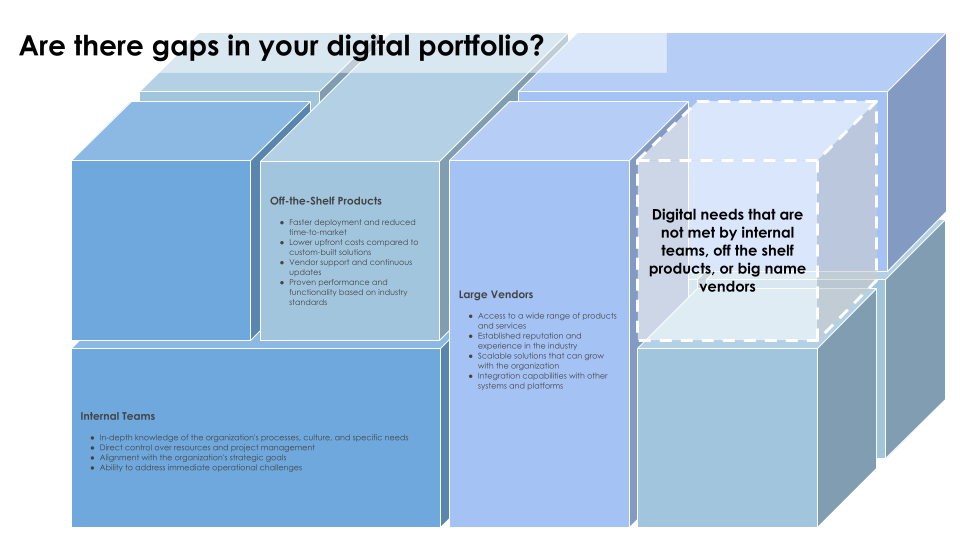 To effectively fill these gaps, large-scale mining companies need access to skilled and passionate digital partners who can collaborate with internal teams and other vendors across both business and technology groups to build best-in-class custom software solutions. These partners can help mining organizations leverage the latest technologies, stay abreast of industry advancements, and pivot quickly to adapt to ever-changing business and operational demands.

Large-scale mining companies should assess their digital portfolio and determine if they have the capabilities to move quickly, apply cutting-edge technologies, and stay responsive to evolving needs within their industry. By identifying areas in need of custom development and finding the right teams to deploy in these areas, they can create a more comprehensive and robust digital strategy that enhances productivity, safety, and sustainability in their operations.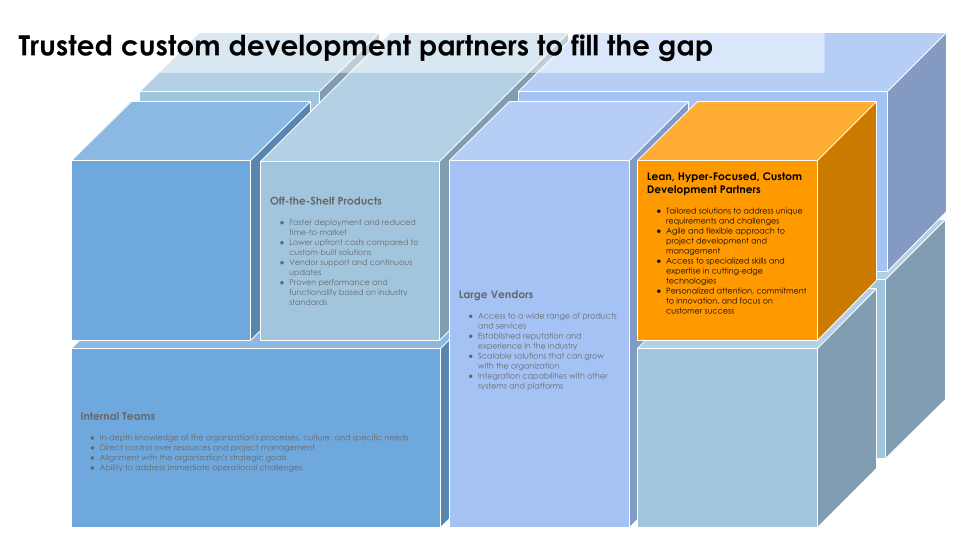 We Build It.
For over 30 years, Digital Foundry has worked with some of the world's largest companies to help think through, plan, and build custom digital solutions at scale. Our team of passionate digital experts will bring decades of experience across a broad range of industries and technologies to help you deliver on your most critical and strategic projects. We take on a limited number of clients each year, ensuring that each project receives the attention and commitment it deserves.

We provide high-touch, personalized service, traveling to meet you in person and working closely with your team to develop custom solutions that drive tangible results. By partnering with Digital Foundry, you can elevate your digital strategy, accelerate innovation, and secure a competitive edge in your industry.
Don't let unaddressed gaps in your digital portfolio hold you back. Embrace custom development solutions and partner with Digital Foundry to unlock your organization's full potential. Reach out to us today to learn more about how we can help you elevate your digital strategy and achieve lasting success.
Real-time Data Collection & Analytics
We can support you in leveraging advanced data analytics tools to gain real-time insights into your mining operations, enabling informed decision-making, predictive maintenance, and efficient resource allocation for increased operational efficiency and cost reduction.
Machine Learning for Operational Efficiency
We can help you implement machine learning solutions that analyze patterns in mining data, enabling more informed decision-making, enhancing productivity, and reducing operational costs.
Environmental and Sustainability Monitoring
We can help you develop solutions to monitor and manage your environmental impact, ensuring compliance with regulations, and promoting sustainable practices through real-time tracking of emissions, water usage, and waste management.
Digital Twins for Optimized Performance
We can assist you in developing digital twin models that simulate your mining operations, enabling continuous improvement of processes, equipment, and overall performance throughout the entire value chain.
Remote Monitoring and Control Implementation
We can help you integrate remote monitoring and control technologies for your mining equipment and processes, facilitating management from a safe distance and decreasing the necessity for on-site personnel.
Fleet Management and Logistics Optimization
We can work with you to develop digital solutions for optimizing fleet management and logistics in your mining operations, streamlining processes, enhancing fuel efficiency, and reducing maintenance costs through monitoring and analyzing vehicle performance and movement data.
Why Digital Foundry
By collaborating with Digital Foundry, mining organizations can benefit from:

Deep knowledge of digital: Our teams of digital specialists work hand-in-hand with client SMEs, leveraging their industry-specific expertise to design and implement tailored digital solutions that address the unique challenges of the mining sector.

Agile approach: We adopt an agile development methodology that fosters collaboration, rapid iteration, and continuous improvement, ensuring that the solutions we deliver are finely tuned to meet the ever-changing needs of the mining industry.

Human-centered design: At Digital Foundry, we prioritize user experience, employing human-centered design principles to develop solutions that are both intuitive and efficient, empowering users to make informed decisions and optimize operations.

Seamless project management: Our high-touch project management approach ensures smooth execution, open communication, and timely delivery of results. We work closely with clients to align objectives, set expectations, and maintain transparency throughout the project lifecycle.

Tangible results: We focus on delivering practical, results-driven digital solutions that drive tangible outcomes for our clients. We structure our engagements to drive towards build-ready requirements and delivery of working software.

By partnering with Digital Foundry, mining companies can leverage our digital expertise and collaborative approach to unlock the full potential of their operations. Contact us today to learn more about how we can help you achieve your goals and transform the future of the mining industry.